Gwyneth Paltrow has been cleared of all fault in a US lawsuit over a 2016 skiing collision, brought by retired optometrist Terry Sanderson.
Following a high-profile two-week trial in Utah, jurors returned a verdict in favour of the Oscar-winning actress after just over two hours.
Mr Sanderson had sued Ms Paltrow over the collision at the Deer Valley ski resort in Utah over seven years ago, which left him with several broken ribs and severe head injuries.
She had denied the claim, and accused Mr Sanderson of crashing into her, resulting in her losing "half a day of skiing" with her family and being "sore".
On Thursday jurors apportioned "100%" of the blame to Mr Sanderson for the crash, and found him to be responsible for the injuries Ms Paltrow had suffered.
They awarded the actress her "symbolic" counterclaim of one dollar in damages.
Ms Paltrow and Mr Sanderson, who both gave evidence during the trial, were present in court for the verdict.
The actress wore a blue blazer, with a white shirt and brown trousers, and did not appear to react as the verdict was returned, but let out a long breath.
As she exited the courtroom she touched Mr Sanderson on the shoulder and whispered something to him.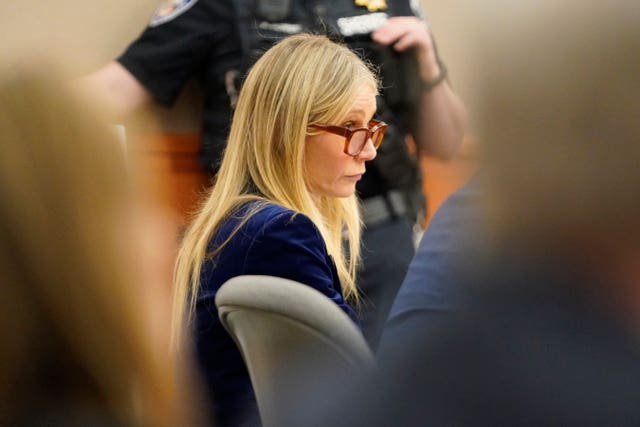 In an Instagram story post shortly after the verdict was delivered, she said she was "pleased with the outcome".
"I felt that acquiescing to a false claim compromised my integrity," she wrote.
"I am pleased with the outcome and I appreciate all of the hard work of Judge Holmberg and the jury, and thank them for their thoughtfulness in handling this case."
Ms Paltrow previously said she felt "very sorry" for Mr Sanderson's health decline following the incident, but maintained she had not been "at fault" and said she had been the "victim".
Mr Sanderson's lawyers previously suggested the jury award him damages of more than three million dollars in the case.
During closing arguments earlier on Thursday the court heard that Ms Paltrow faced a "ransom" for a "meritless claim", and that she had shown "courage" by attending court for the two-week trial.
Stephen Owens, representing Ms Paltrow, said the actress had sat in court for two weeks as a "punching bag" and had been "uncomfortable" during proceedings.
"It takes a lot of courage does it not?" he told the jury in his own closing argument.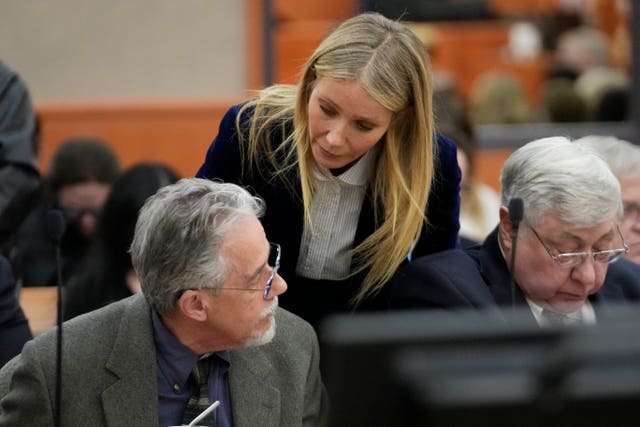 "(Mr Sanderson's) life has been laid open – that's because of him. He hit her. He hurt her and he wants three million dollars for it.
"That's not fair. The easy thing for my client would have been to write a cheque and be done with it – but what does that tell her kids?
"It's wrong, it's actually wrong that he hurt her and he wants money from her."
He added: "This is a meritless claim.
"You don't throw a three-million-dollar bombshell in the courtroom, call her (Gwyneth Paltrow) King Kong, and walk away. You shouldn't reward that.
"Gwyneth, who could have just paid it out, paid the ransom, (said) 'no I'm not doing that. I'm not going to have someone hurt me and then ask me for a lot of money. I'm not going to do it'."
In their closing arguments, Mr Sanderson's lawyers had said Ms Paltrow was "not a liar" but had been mistaken about what had happened.
Robert Sykes told jurors that the actress's views on the collision were "sincerely expressed" but incorrect.
"Gwyneth is a good person. She is a good mother and she loves her children and she is passionate about things," he said.
"I think that she believes, and I believe Gwyneth Paltrow when she says 'Terry hit me in the back' – it's a sincere belief but the problem is a sincere belief doesn't make it so."
On Wednesday Mr Sanderson told the court it was "very difficult" to sue a celebrity and said he felt the point of the trial had been to make him "regret" bringing action against the Hollywood actress.
Throughout the trial jurors have also heard from a variety of medical experts, ski instructors, and members of both Mr Sanderson's and Ms Paltrow's families, including the actress's children, Apple and Moses Martin.